What is the Annual Meeting?
The Annual Meeting is for our members.
It's a meeting to provide information that members want to know, an annual calendar mark that engages a past year summary. This effort takes a team of skilled carpenters to assemble, and then construct a highly detailed, transparent, and vital report capturing the on goings for the past 365 days in "the life of the Providence Art Club - 2017-2018."
The energy this has taken and the energy this returns to your board, the Club volunteers, and the dedicated staff, as we catalog and relive our accomplishments, is like a high-octane art infusion. It has jump-started us to eagerly share the plans for our tomorrows and our future.
The Annual Meeting is also for reaffirming our goals, our mission, and our plans for ongoing sustainability, and to continue as the effective force for future generations as it has been in the past.
Core Goals
1. Support our artists and art culture
2. Celebrate the unique community and quality of our membership
3. Continue the stewardship of our visible, iconic historic buildings, and communicate the role the Club plays as an important cultural asset in the Providence community and beyond.
But for our sustainability, we've turned our present work and near future work to ensuring the details are what they need to be, to support the big picture, the internal economy, and embrace best practices at the Providence Art Club.
In order to maintain the core goals and mission, the way we have traditionally operated may need to change.
Since our major renovations, now 8 years, we have been growing and expanding, and the resources, practices and systems for what is now a very complex business structure need to be updated too.
You have heard from committee reports, and seen in the written committee reports,
the reinstated and new steps we've taken, specifically in finance, governance, experiences and communications with our membership, and our continuing efforts to extend our reach into the broader community.
This place, this art club these walls are a haven of comfort and companionship, where for 137 years Artist Members and Patron Members have mingled their hearts, their creativity, their tremendous pride for this Club and share their remarkable commitment to ART.
I'd like to acknowledge our board members and recognize our executive committee who meet every Wednesday in the Cabaret to manage, guide, resolve, and make decisions that positively impact our future.
Vice President Nancy Gaucher-Thomas, Treasurer Gail Ginnetty, Secretary Dan Mechnig, Assistant Secretary Elizabeth Zimmerman, and ex-officio President David DePetrillo. Each of these devoted officers not only meet each week but give generously and unselfishly of their time, sometimes at very odd hours.
The amount of work the treasurer of this Club is tasked with is impossible to describe & frequently goes unrecognized… It's the numbers after all…
I'd like to single out Gail Ginnetty for her flapless dedication to the ever more & increasingly complex work of our finances.
This Providence Art Club, thanks to all of you, is just plain good for the soul. Our character and our culture are unique as arts organizations and membership clubs go.
There are things that all of us can do to nurture the soul of this present Art Club and ensure its long-lasting future.
• Introduce new friends and colleagues to the Club, it's the most important thing you can do as a member to ensure the Club's future.
• Take advantage of one aspect of membership that you have not in the past year.
• At the core of our Club is its social community — attend an opening, enjoy member dinners and nights, come to lunch on a Tuesday, take a class with fellow patrons and artists.
• Buy a piece of art — regardless of your member status, regardless of your background or the length of membership, we've all come together at the Providence Art Club because of art.
• Live our mission. It's our membership responsibility to keep "for art culture" at the center of everything we do. It unifies us all.

Kelly L. Milukas
46th President, Providence Art Club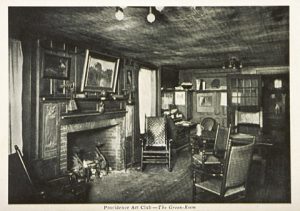 The Club's History
In 1880 a group of professional artists, amateurs, and art collectors founded the Providence Art Club to stimulate the appreciation of art in the community.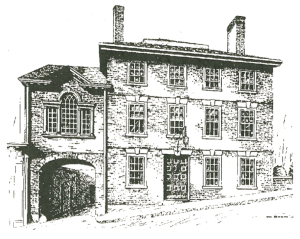 Membership
The Providence Art Club thrives on and welcomes new members. Membership in the Providence Art Club in restricted, by the Charter, to persons interested in art and culture.